Uveřejněno: 1. 9. 2022
One of the first steps when you decide to spend your vacation in one of the places is to look for accommodation. Many factors enter into this process, and Split is a popular tourist destination, so it's easy to get lost among so many choices of accommodation. After choosing the destination, it's time to plan the trip and choose the accommodation. To begin with, make a reservation on a trusted and transparent website like Adriatic.hr. Aim for accommodation with a large number of reservations, contact information, refunds and a large number of comments. Are you traveling with family or solo? Do you want to party, explore history or go into the unspoiled wilderness? What is your accommodation budget and what are your priorities? These are just some of the questions you have to ask yourself, and to which we bring you the answer today.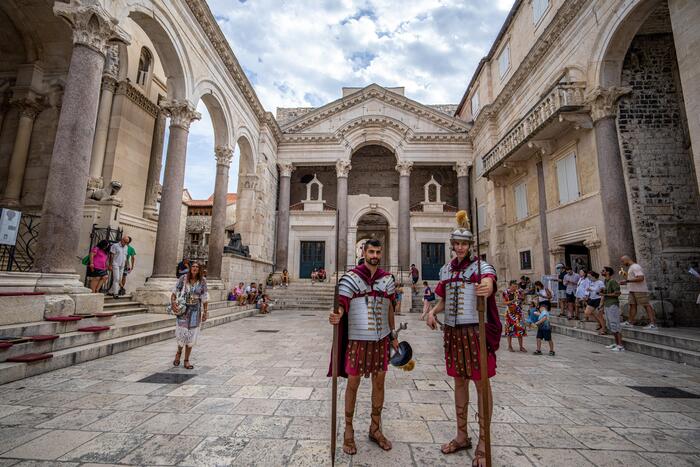 Before you choose the type of accommodation, you should definitely consider which location in the city suits you best, whether you prefer the city center itself or the wider center and suburbs. The city center means that you are in the center of the activities, Diocletian's Palace will be on your daily route and you will feel the ancient atmosphere of the city. You will certainly save money and time on public transport and taxis, and we all know that time is money. Top restaurants will be at your fingertips, and the choice is unlimited, as well as clubs and cafes where you can continue the party until the wee hours of the night. Also, if you relax at dinner with Croatian wine, your accommodation will probably be a maximum of 10 minutes' walk from the restaurant. Staying in the city center provides an opportunity for a complete and continuous experience of Split, and the fact that the streets of the center of Split are always full in summer tells you that safety is guaranteed, without suspicious abandoned streets.
If you choose accommodation in the wider center or even the suburbs, the first factor that will bring you the biggest difference is the price of the accommodation, regardless of which category. In this case, you will be able to use the difference in price for other experiences that interest you on vacation, but you must remember that you will also spend more money and time on transportation to attractions. On the other hand, the most beautiful beaches like Žnjan and Kašjuni are outside the city center, which means that attractive beaches will be closer to you. A factor that can be important to you is the quieter atmosphere of the accommodation, which is outside the center of events, and if you have a car, free parking will always be available near the accommodation. In the zones where more locals live, but there are no tourists, you will really experience the way of life of the people of Split and you will see the whole city, not just tourist attractions. Although we stated that security is greater in the city center where there are a lot of people, we must emphasize that Split is a very safe city and we are sure that you will feel safe in all its parts.
Neighborhoods in the city center: Diocletian's Palace (City), Veli Varoš, Šperun, Radunica, Toć, Lučac, Manuš
Wider center: Bačvice, Firule, Bol, Spinut
The long-awaited vacation is finally starting, you know where you are going, what the weather is like, what you'll visit and the last step awaits you: packing. It sounds simple, but if you go for several days, it's very easy to forget the basic things. That's exactly why we're bringing you the ultimate checklist today that will help you pack everything you need and never have that "oh no, I forgot..." moment. Also, at the bottom you will be able to download a checklist in A4 format that you can print at home and have it at hand while packing.
The first and most important thing - documents. We start with the obvious things, passport, identity card, health card. If you are an EU citizen, you are provided with a free European health card that is valid for one year and covers the costs of urgent health care in the EU. It is not a bad idea to photocopy all documents and have them scanned among documents in mobile devices and laptops. This ensures that, in case of loss or theft, you can still prove your identity. In times of a pandemic, you should check the conditions of entry into Croatia before you set off on your journey. Check what documents you need, such as a passenger locator form, a certificate of recovery or vaccination.
Do not forget to pay the travel insurance, and always have the document confirming the same at hand. Adriatic.hr offers a very interesting type of insurance, namely rainy day refund insurance. If your vacation on the Adriatic is ruined by rainy days, Adriatic.hr will compensate you for the damage. We will even refund you 50% - 100% of the amount paid for private accommodation, for the appropriate number of rainy days. The only thing you need to do is to pay the insurance during the reservation (the amount of the refund depends on the amount of the insurance payment) and send us a completed confirmation that the weather conditions made it impossible to enjoy the quality of your vacation days. As a valid document for proving identity, the driver's license is very important. Not only for the possibility of driving a car in Croatia, but also as an identity document. Speaking of the driver's license, also print out the car rental receipt, if you rented one, of course.
Face mask - in Croatia, it is still mandatory to have a protective mask in health care facilities, and some pharmacies still insist on masks when entering. A face mask can do no harm even in case of large crowds on the streets, which you will certainly experience on vacation in Croatia. If large crowds really create a problem for you, we recommend coming in the September, when the crowds are rapidly decreasing, and the temperatures are still high, which allows swimming and enjoyment.
Disinfectant - it is very easy to find an alcohol disinfectant that is easy to carry with you. It is good to have a version for disinfecting the skin of the hands and for disinfecting surfaces where we stay (tables in restaurants, cafes, toilets, etc.).
We often don't get enough sleep on vacation because of things like an uncomfortable mattress or pillow. A mattress is not very convenient for us to carry with us, but a suitable pillow can definitely help us make our rest more comfortable. Some other things that contribute to a better quality of sleep are certainly an eye mask and earplugs for unexpected noisy nights, which are not so rare if you are staying in the city center. A glass water bottle is a better solution for both the environment and our health. If you're traveling by plane, don't forget to empty it before going through security. In order to make your trip as comfortable as possible, regardless of the means of transport, and you are sensitive to travel, we suggest using a products which reduce the effects of travel and motion sickness.
Laptop and charger - if you like (or have to) carry your work with you, secure a laptop so that there are no unpleasant situations on the trip. You can buy separate cushions for your backpack, and always pack your laptop between the soft clothes in your suitcase.
Mobile phone and charger - in case you are not an EU citizen, don't forget to block roaming data when getting on the plane or, if you are coming by car, when entering the EU area. Otherwise, your mobile operator may charge you a lot for services, and we believe that this is not a good start to your vacation. Don't forget the charger and plug for the European socket, if you come from an area where the sockets are of a different type.
Portable battery - these little things are life saviors on trips. After a whole day of recording, taking pictures and using maps on the mobile phone, smartphones run out of power. It's very easy to fix that, even when you don't have an outlet. Some portable chargers can even charge the battery 3x and have several outputs, which gives the possibility of charging several devices at once. Stronger portable batteries also have the power to charge laptops, so we recommend that you research carefully which battery is best for you.
Headphones - whether on the plane, train, car, beach or while working, headphones will brighten up those hours of silence and lack of activity that are offered at that moment. For airplanes, the ideal version are the "noise-cancelling" headphones that will drown out the background noise and give you time to think, listen carefully to an audio book or focus on watching your favorite series.
Cameras - there is no better way to preserve memories than to freeze the moment with a camera. There are many options on the market, from digital cameras to film. A very interesting option are Polaroid cameras, which use the technology of the past to bring smiles to our faces. There's something magical about an unstaged photo that you can't easily replicate.
We believe that during your stay in Croatia, you will make several one-day trips. In order to make it as painless and functional as possible, we suggest that you bring a small bag to take with you on trips.
Organization boxes are a great choice if you carry a lot of stuff. They provide the possibility of finding things more easily, the contents of the suitcase are more organized, and thus more things fit in it.
We also bring you a list of clothes that you should bring to Croatia during the summer. Clothing for the summer should be of light colors and natural materials, but we must note that before your trip you must check the weather forecast because in the pre-season the weather in Croatia can be a bit unpredictable. For more, we suggest that you type wind "bura" into Google. Clothing:
• plain t-shirts
• short pants
• long, light trousers
• skirts
• dresses
• flip flops or sandals for daily walks
• beach shoes
• fine shoes for evening walks
• a long-sleeved shirt in case of reduced temperatures at night
• underwear
• swimwear
• workout clothes
• training shoes
• pyjamas/nightgowns
• socks

Fashion accessories:
• hat/cap
• Beach bag
• backpack/bag for a day trip
• scarf
• sunglasses
• belt
 
Sometimes we think that we don't have a lot of cosmetics to pack, and then we start packing. Sometimes we even surprise ourselves. We suggest that you take a smaller bag in which you will organize your cosmetics. If you use specific shampoos and shower gels, which you are not sure you can buy in Croatia, the best idea is to buy small travel packages and transfer part of the products into them.
We also provide a list that will help you not to forget anything:
• toothbrush
• toothpaste
• sunscreen with high SPF
• after sun cream with aloe vera
• moisturizing cream for face and body
• eyebrow tweezers
• nail clippers
• menstrual pads
• perfume
• makeup
• hair styling devices
• hair brush
• hair gel
• makeup remover
• cotton pads
• wet wipes
• deodorant
• contact lenses
Medicines are a segment that should be taken seriously and prepared. In addition to medications for chronic illnesses, here are some you may need:
• antibiotics
• painkillers
• anti-allergy medicines
• spray against intruders
• first aid kit
• vitamins
• rehydration solutions.