Cycling is one of the most popular vacation activities. It is ideal for getting around since it doesn't require any fuel, it's environmentally friendly and it helps you stay in shape. Perfect, right? Cycling also helps you to get to know the destination better, its historical and natural sights, and it makes taking breaks at restaurants and cafes easy. You can easily get to places that cannot be found in guides, like hidden bays, and there are so many such places on the Adriatic.
This time we have explored the best cycling routes on three islands in Dalmatia – Brač, Hvar and Vis. Most of them have cycling routes. Some are listed and some are not. You can rent bikes at the destination, or you can take your own on the ferry. Have in mind that you'll have to pay for bike transport so make sure you check the price before buying the ticket.
Continue reading and discover the best cycling routes on islands in Dalmatia.

Brač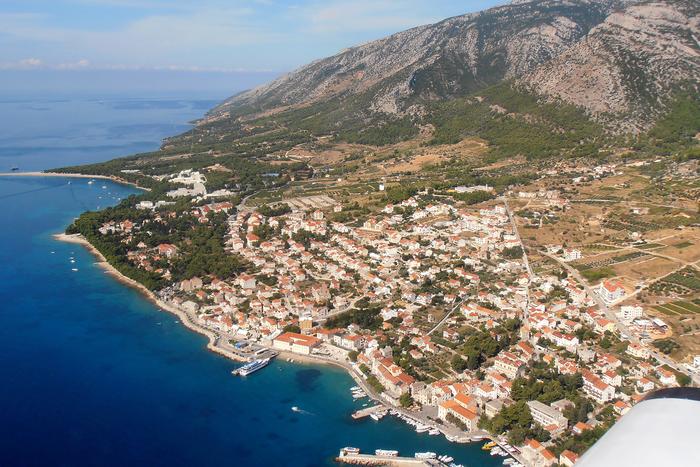 The island of Brač has a total of 25 cycling routes. The longest one on the island, St. Georges's route, is 180 km long and goes around the entire island, starting from Supetar. This route is one of the most difficult route on the island. The ones who can prove finishing it successfully get the King of Brač certificate issued by the Supetar Tourist Board.

If you'd like to take a simpler route, choose St. Roko's route by the sea – from Supetar to Mirca and Sutivan. The route is 14.1 km long, combining asphalt and macadam roads. It's ideal for families with children. Don't forget to take breaks and swim in the most beautiful bays.

History enthusiasts will love the thematic routes in Sutivan.

Tramuntana route leads to the center of Sutivan – to St. Roko's hill where St. Roko's church from the 17th century is located together with catacombs – underground graves. The route goes through Bobovišća where the house of a famous Croatian writer Vladimir Nazor is located. A bridge built by the emperor Franjo Josip is just a bit further away from Ložišća. The peak of your ride will definitely be the Smrčje hill view from where you can see Brač's northwest coast. The last part of the route is going downhill to Sutivan on macadam road.

If you're feeling courageous and fit, try taking down a 109 km long route Medulla from a fishermen's village Milna on the west over Ložišća, Dračevice and Nerežišća, passing by the highest peak on the Adriatic – Vid's hill. Then it's downhill to Bol and then through Selca and Sumartin to Povlja. It will take you approximately 5 hours and 30 minutes to finish this route.

If you don't have your own bike, rent one in Milna, Sumartin or Bol. .

Where to stay on Brač?

• houses and apartments for families with children
• Robinson Crusoe style accommodation
• 3-bedroom apartments


Hvar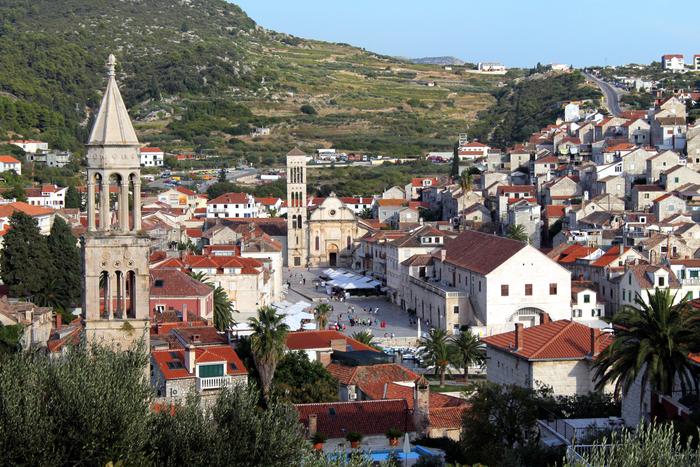 The island of Hvar is one of the most popular tourist destinations in Croatia. Great and quality offer of fun and luxury things to do, a great number of sunny hours – 2724 hours of sun per year!, and of course, pebble beaches – attract many visitors in search of a great summer vacation. But Hvar has something else to offer. It is an ideal destination for cycling lovers. Hvar is covered with hills and steep parts which makes it great for mountain bikes (MTBs).

Rent your bike at several places in Hvar or Stari Grad and go on an adventure of discovering the beauty of Hvar on two wheels.

We recommend the following cycling routes on Hvar:

Purkin kuk route starts in Stari Grad. It passes by the port and turns to Velo Grablje. If you stop in this little town surrounded by hills and olive yards, it will delight you with its stone houses which seem as if they were frozen in time. Then comes the most difficult part – climbing to St. Nicolas, Hvar's highest peak (626 m). Next is going downhill to Dol, passing through Starigradsko polje and, at last, going back to Stari Grad. It will take you a bit less than 2 hours to finish this 21.5 km long route.

Kabal cycling route, named after the Kabal semi island on which it can be found, is 24.7 km long. Just like Purkin kuk, this route starts in Stari Grad. Then it goes toward Rudine and takes a turn to a macadam road leading to Kabal. The route splits into two roads taking you to two semi islands. Take your time and explore the numerous hidden bays here. Don't forget to take your bathing suit and your beach towel with you.

On your way back to Stari Grad, the route goes over the hotel Arkada's walking zone and ends close to the Tourist Board's office.

It will take you 1 hour and 45 minutes to finish this route.

Where to stay on Hvar?

• houses and apartments for a peaceful vacation
• houses and apartments for families with children
• private accommodation up to 50 m away from the beach


Vis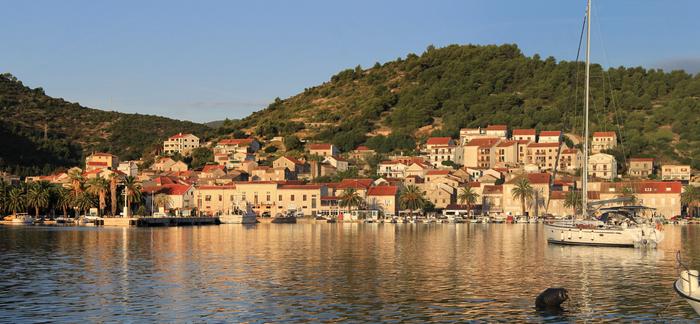 The most remote Croatian island is a heaven for tourists. Almost 50 years of political and geographic isolation have contributed to the untouched beauty of this island. Still, during the last 10 years, Vis has developed into an attractive tourist destination for all those in search of a peaceful vacation. A significant part in this goes to cycling. Hills of Vis, endless vineyards, macadam roads and picturesque Mediterranean houses are all tempting to adventurous bicyclers. Considering low traffic, you can cycle on asphalt roads on Vis as well.

20 km long cycling route goes from Vis port over Prisma (the route goes up) to Križ hill where Velo Poje is situated. Then you go down an old road to Lokva passing by a small lake. There is one more descend to Milna bay with beautiful beaches for relaxing and swimming. This cycling route is suitable for all types of bikes.

The second route you can take is similar to the first one. The difference is taking a turn to Komiža at Lokve (follow the signs) on an old road. Turn to Marine zemlje and over village Žužec (Stiniva bay and Vela and mala Smričevica are located underneath) and go through Dračevo polje toward Podšpilje. Go further downhill to Komiža where there's a view over the Komiža bay. If you're not tired, take the turn to Vis and go up St. Michael and relax before the last downhill turn to Vis port.

You can rent a bike in Vis. Employees will help you find the best bike and route for you.



Where to stay on Vis?

• apartments up to 100 m away from the beach
• apartments with WiFi and sea view


10 tips for cycling in Croatia:

1. Make sure to wear a helmet.
2. Take some food and a lot of water with you. Stay hydrated before, during and after your ride.
3. Choose only those cycling routes suitable for your physical fitness.
4. If you cycle in a group, stay in one lane.
5. Don't use headphones.
6. Follow the road signs.
7. If you're cycling on the road, always keep distance from cars.
8. Make sure to put sunscreen on if riding during summer.
9. Always leave your bikes in designated areas.
10. Bikes are not allowed on catamarans. They are allowed on ferries.